Blog
Back to articles
Easy Ways to Write a Thrilling Narrative Essay
Many of us learnt how to write a narrative essay at school, correct? The problem is that not many of us learnt how to do this well, as the teacher was usually more interested in making sure that everybody completed the task. Below are some top tips to creating narrative essay writing that will make you stand out.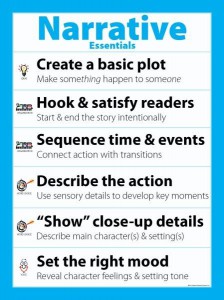 Make your ideas clear to the reader
Although you want to show off your range of vocabulary and knowledge of linguistic features, avoid over-complicating your writing by making it too complex. It is important that your reader can follow the essay without having to re-read sections or skip confusing sentences, so be wary of using sentence structures and words that might cause them to do this.
Avoid simply describing everything you do
The worst kind of narrative writing is usually the type that acts as a commentary for the author's activities. We don't want to read about your every move and thought, so try describing what is happening within the context of the whole environment. Make sure that the reader understands how your actions are related to what is going on around them, as this will help to create a better sense of understanding of the scene.
Widen your range of vocabulary
The simplest way of improving your vocabulary is reading. The more words you come across, you more words you are likely to learn, so start ticking off all of the books that have been sitting on your bookshelf. In addition to this, use a thesaurus and dictionary at all times during the writing process – just remember to avoid making your writing too complicated.
Avoid using too many references
Narrative essays are not the place to be including lots of references to external sources. Instead of referencing other people as you would in a research paper (for example), mention the reference in a way that relates to what is happening at that time, almost as if you were throwing it in as part of a spoken conversation.
Ask for an objective opinion
The final thing you can do to make sure your writing is engaging and thrilling to read, is to ask an outsider for their honest opinion. Ask a classmate or a family member which parts they like the most and whether there are any paragraphs that lost their attention. You may even be able to request some support with making improvements if the person you ask is a skilled writer.
Take a break from writing.
Top academic experts are here for you.
do my paper