Blog
Back to articles
Learn How To Write Admission Letter Successfully
If you are reading this, it means you are anxious to learn how to write an admission letter. This is usually done as part of a college admission process. It is, in fact, one of the most important parts of the process. However, you probably don't know how to write an admissions letter the right way. Don't worry though, our experts are here to help you.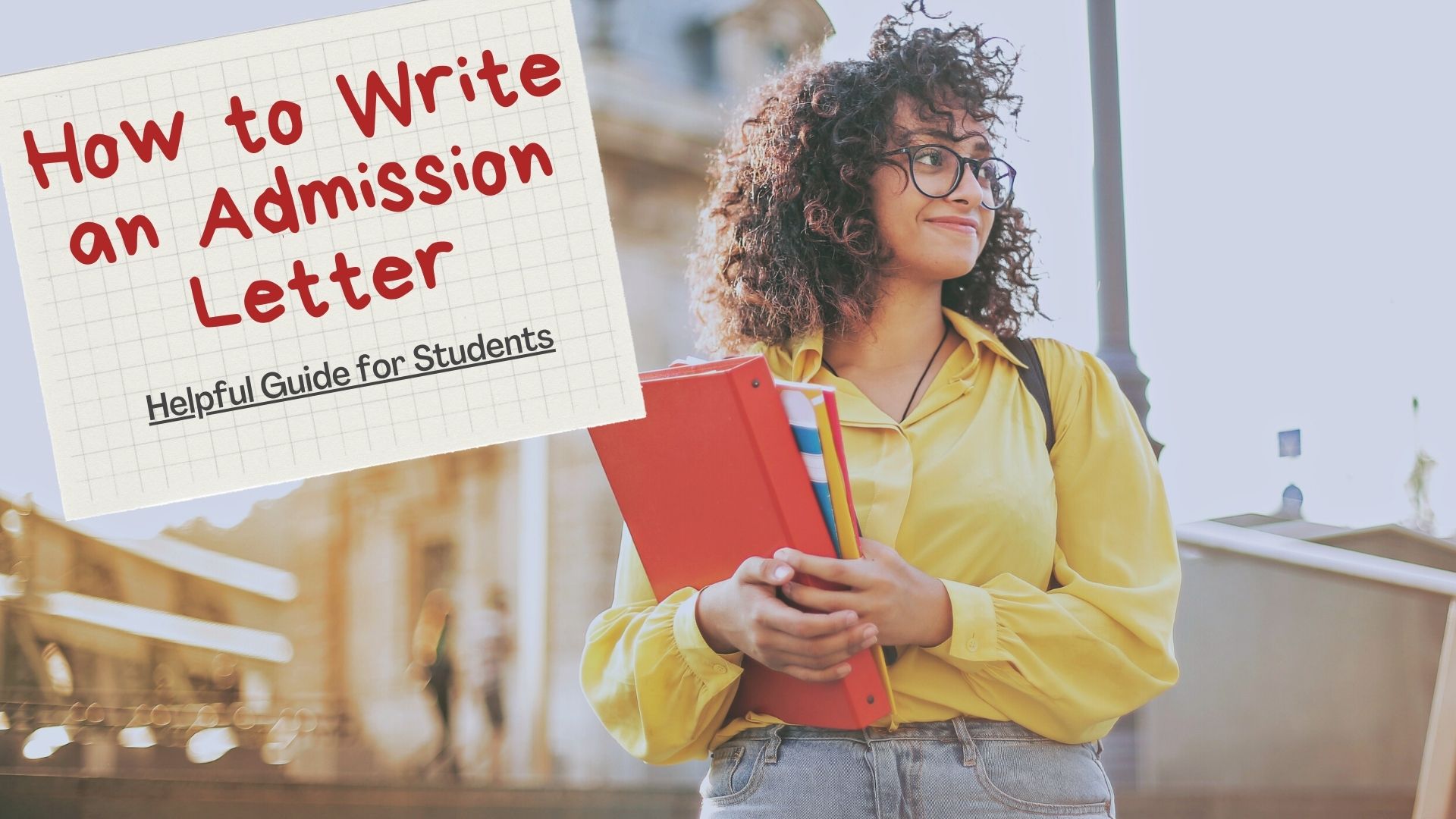 In this blog post, we will not only show you how to write a college admission letter, but also give you a short letter of admission template that you can improve upon. In addition, you will get valuable tips, tricks and advice and, if you want, you can get research paper help that will help you write a better paper in no time. Sounds good? Let's get started!
What Is A Letter Of Admissions?
Before you can learn how to write a letter of admission, it's important to know what it is and why it's important. So, what is a letter of admissions?
It is basically a letter you send to the university you want to be admitted to. It main purpose is to convince the admission committee that you should be accepted at their school.
The good news is that, even though this is a very important letter, writing one is not at all difficult. Here is some important information to keep in mind.
The admission letter format is pretty basic. It should be structured like a letter.
The letter structure contains the heading, the greeting, the body, the complimentary close, and the signature line.
Ok, but what guideline should I use? There is no set format for your letter and you are not required to write it in academic format.
How long should it be? Generally, you should aim for one full, single-spaced page. The font should be Times New Roman (12-point) or Arial (11-point).
Just How Important Is A University Admission Letter?
Bu how important is the university admission letter? Can't you just submit your application without writing one? Even though some universities don't require you to write the letter, it is good practice to do it. The letter is very important because it complements your admission paperwork and provides the committee with additional information about you. You can present aspects that are not included elsewhere, such as charity work, interesting skills, various certifications, outstanding achievements, and even recognition you've received from people in your industry. You should definitely write one and submit it before or after you submit your application paperwork.
Learn How To Write A Letter Of Admission To University In 9 Easy Steps
Now, we know you are eager to learn how to write a letter of admission to university. The good news is that we will not only provide you with an outline and a step by step guide. We will give you an example as well. But first, let's see how you can write the letter in just 9 simple steps:
Start by doing some brainstorming. It's important to write down everything you consider a success. Think about your academic accomplishments, your grades, your extracurricular activities, and even the written recommendations you can get from your professors. Write down your most important skills and personal qualities because you'll need to include them in your letter as well.
Start the letter by writing the letter head. The first part is your name, address and ZIP code. The second part is the recipient's name, school name, school address, and the ZIP code of the school.
Write the greeting. Generally, using "Dear Mr. Recipient" works great, so you shouldn't overthink this part.
Write the body of the letter. Generally, you will want to split it into 4 sections. The first section will tell the admissions committee why you have chosen their school and which program you are applying to.
Achievements. The second section will talk about you and your achievements. Yes, you can use bullet points here.
Skills and Qualifications. The third section will discuss why your qualifications, skills, experience, and achievements make you a perfect fit for their school.
Contact Info. Finally, the fourth section will contain your email address, in case the committee members have questions or need additional information from you.
Write the complimentary close. Don't overthink this. A "Best regards" or "Sincerely" works great in an admission letter.
Write the signature line. You will need to sign the letter and write your full name as well.
Edit and proofread. You should edit your paper at least three times. You want it to be perfect. Keep in mind that even a typo would hurt your credibility.
Remember that you can split any of the sections above into several paragraphs. However, make sure your letter is not longer than one page.
Small Admission Letter Template
We know our step by step has helped you quite a lot, but you still need help if you are to write en exceptional admission letter. So, to make sure you understand exactly what you need to do, we will show you a short example of admission letter. Our example can be adapted to your needs simply by adding more content to each of its sections. Here is how you should structure your letter:
Your Name

Your Mailing Address

City, State and ZIP Code

Ms. Jane Doe (this is the name of the admissions committee representative)

School Name

School Address

City, State and ZIP Code of school

Dear Ms. Jane Doe,

As an aspiring architect, I am applying to School Name because, according to my extensive research, your Construction Management program has the best chance of providing me with the preparation and career opportunities I have been looking for. With an outstanding reputation and a long history of stellar achievements, your school has convinced me that it is the best place to pursue my studies in the field of architecture.

My academic background is diverse and I have accomplished significant things in both my studies and personal life, such as:

I have gained leadership experience as part of the Construction Company design team
Significant accomplishment #2 (something related to an award)
Significant accomplishment #3 (something related to charity work)
Significant accomplishment #4 (something related to important recognition)

These achievements make me a great fit for the Construction Management program at your school. I am also happy to say that, under your guidance, I am certain that I will achieve even greater things.

I am excited to say that I have submitted my application to the Construction Management program at your school and that I am prepared to achieve academic excellence. Thank you very much for considering my application. I await your acceptance into the freshman class of the first year.

If you have questions for me, or if you need more information about my academic results and achievements, please don't hesitate to contact me at email@email.com.

Best regards,

Signature

Your Full Name
Tips And Tricks + Some Advice
Now, it's time to show you some useful tips and tricks, as well as give you some quick advice on how to write a letter to university for admission quickly:
Be focused. Don't rant about irrelevant things. Focus on showing the admission committee why you are the perfect choice for their school.
Be personal. Remember, this is not an essay. Think of your admission letter as an interview. Its purpose is to provide details about you; details that have not been included in the rest of the application.
Be coherent. This means you need to structure your letter well and organize your ideas into logical, linked paragraphs.
Be very specific. This means you need to bring proof that supports your every claim. If you claim you've done charity work, specific which charity and the exact time period.
Ask you teacher for help. He or she can point you in the right direction and provide you with a lot of interesting ideas that you can include in your letter.
Every student should proofread his letter at least twice. There is nothing worse than typos or other errors in an admission letter. Make sure you don't lose your chance to attend your dream college because of minor spelling errors.
Admission Letter Sample
Finally, you can check out this example of admission letter to get an idea of how you should sound and structure your letter:
Furthering education is not always available, or easily accessible for many. Some people in my field, nursing, stop at the level of patient care in a hospital or other facility. I desire to move onward and upward with my education in nursing in order to create other opportunities for myself. I have a genuine interest in becoming a part of the Nursing Management and Organizational Leadership program. My prior education and experience have equipped me with skills, which will enable me to perform at a high standard in this endeavor.

I received a Bachelor in Nursing at the National Institute for Lifelong Education in South Korea. As an assistant nurse, I developed interest in Adult-Acute health. During this time, conducting clinical trials brought to my attention the fact that stress leaves patients emotionally and physically drained. I realized the importance of patient-centered care. One of the advantages of continuing my education will be that the knowledge I learn will keep me abreast of new research and procedures, which will ultimately improve the lives of my patients.

In 2010, I visited Mongolia as a volunteer to assist the villagers and children who needed to be diagnosed and receive medical care. I helped give round-the-clock care. The satisfaction from this experience is the reason for my interest in Adult-Acute care. According to Josepha Campinha-Bacote, cultural competence can be viewed as, "a necessary set of skills for nurses to attain in order to render effective care." I gained cultural competence during the time I volunteered in Mongolia. I came to understand the needs of the patients at a deeper level than I had ever experienced before.

My husband is in the military, and this plays a role in the notion that I want to serve the soldiers who are in dire need of quality care. I wish to contribute to the military, knowing what rewards that will bring me personally in return. My philosophy of what is to be gained in a graduate nursing program is reaching a new depth of study, improving critical thinking skills, furthering cultural competence and gaining leadership skills. All of these results will provide patients with more informative care, better reaction times and an ability to interact with other cultures appropriately concerning their medical care. I advocate patient-centered care and am confident, if allowed in the program, that I will be able to bring my own contributions to this philosophy in my future experiences.
Best Writing Service Online
If you don't have time to write all your admission letters, we can help you. We are one of the most reliable and affordable professional writing services online and our creative writers are ready to write an admittance letter for you in as little as 3 hours. We have helped thousands high school, college and university students impress not only their professors, but also the admissions board with an awesome school admission letter.
All you have to do is send us your specifications and tell us a bit more about your skills. You will get a unique admission letter sample from our experts in record time. We have the best native English writers on staff and all our custom academic content is ready for submission from the moment you receive it. Working with us is 100% safe and secure, so what are you waiting for?
Take a break from writing.
Top academic experts are here for you.
do my paper