Blog
Back to articles
Learn How To Write An Empirical Paper With Our Experts
More and more students are trying to figure out how to write an empirical paper. Truth be told, many teachers don't bother to explain what this paper is and how it should be written. The poor students have no other option than to scour the Internet in search of answers – or get help from an experienced academic writer.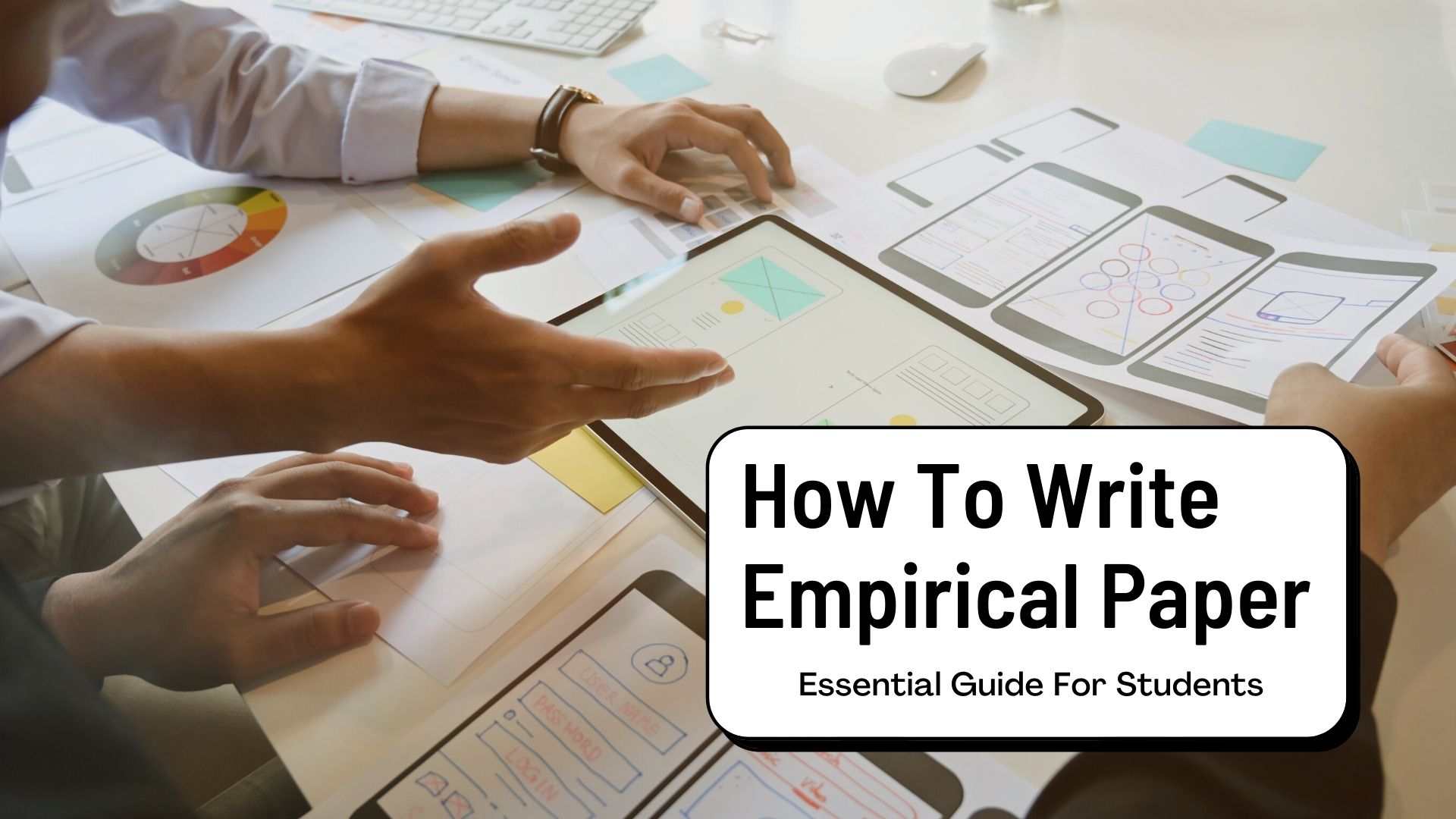 Taking the empirical approach is not easy, but it's not too difficult either – provided you know what you have to do. Unfortunately, most students do not. After all, this is probably the first time in your life you're attempting to write an empirical essay. You're thinking "What should I write my research paper on? Where do I begin?" So, what is and empirical paper? Why is it important? How does it look like? How can you write this essay fast? These are all questions that we will answer in this blog. Also, you will get a quick how-to guide that you can follow. Let's get started!
What Is An Empirical Paper?
Let's start with the empirical framework definition. What is an empirical paper?
Also known as an empirical article, the empirical essay is an academic paper that reports research that is based on experiments or on observation. The research methods can be either qualitative or quantitative. Methodologies usually employed in empirical papers include analysis, studies and observations of data obtained using surveys, questionnaires, and interviews.
Keep in mind that an empirical paper is a great example of primary research. In other words, it can be used as a primary source of information in your papers.
Structure And Format
Now that you are up to speed with the empirical paper definition, it's time to talk about the structure and format of this academic paper. Here is everything you need to know about it:
The standard empirical research paper contains the following mandatory chapters: an abstract, the Introduction, the Literature Review chapter, the Methodology chapter, the Results chapter, the Discussion chapter, the Conclusion, and the References/Works Cited section.
This is a substantial paper, so you should write at least 10 pages. It can be as long as 30 pages though, depending on the complexity of the subject. If you are wondering about the number of words in an empirical paper, it can be anywhere from 2,500 words to 10,000 words.
You should include graphs, charts, tables, and even statistical analysis in your paper – especially if the data is relevant and is used to answer your research questions.
You must include the bibliography at the end of the paper (the References/Works Cited chapter).
Collecting Data And Research For An Empirical Essay
Writing an empirical essay is not easy to do, especially because the research that needs to be carried out is extensive. This is why it is important to learn everything about sources and the components of the empirical process. So, what is an empirical source? Basically, empirical sources are those sources that are reporting on original research. They are also known as primary sources. Examples include:
Interviews
Memos
Personal narratives
Diaries
Theses
Dissertations
Conference proceedings
Poems
Photographs
Letters
And many others
But what are the three components of an empirical process? If you're wondering about the 3 components of empiricism, these are transparency, inspection and adaptation. However, these components do not apply to empirical research papers but to the Scrum Framework (a framework used in project management).
Quick Guide On How To Write An Empirical Research Paper
Now that you know what is empirical article, it's time to learn how to write an empirical research paper. Our expert writers have put together a short guide that should help you get started with the paper. Here is what you need to do to write it quickly:
Write the abstract. We recommend you leave this until the very end of the writing process. It should be a condensed version of your paper which highlights the most important data. The length can be anywhere from 150 to 250 words.
Write the Introduction section. This is where you will give some relevant background information about the topic and will introduce your hypotheses and expected results (or predictions).
Write the Literature Review chapter. This means identifying all the relevant works and research that have been written on the topic. The main goal of this chapter is to show where your research fits or what gap in knowledge it aims to cover.
Write the Methodology chapter. This is relatively simple to do because it basically involves just describing each and every method you have used to gather the data. However, remember to be very specific and explain everything. Another scholar should be able to replicate your experiments after readying your methodology.
Write the Results chapter. This is where you will be presenting the statistical analysis of the data you have collected using the methods in the Methodology section. The information needs to be condensed and you should avoid interpreting the data.
Write the Discussion chapter. This very important section discusses the results and shows your readers how your findings answer the research questions in the introduction. Cover each possible explanation for each result.
Write the conclusion. This is where you will summarize everything and discuss the weaknesses of your study (if there are any). If certain areas require further research, the conclusion is the place to talk about this.
Create the References/Works Cited/Bibliography chapter. Each work you've cited or used in the process of researching and writing the paper needs to be included here.
And this is how you write an empirical paper quickly. Remember to edit and proofread your work until it is perfect. Why lose points for a couple of typos or a minor lapse in logic?
Empirical Writing Tips And Tricks
When it comes to empirical writing, things tend to get complicated very quickly. You are basically writing a research paper that is somewhat similar to a thesis or dissertation. You will be doing your own research, instead of basing your writing on other peoples' research. To help you succeed, we have compiled a list of the best tips and tricks:
Describe the methods you have used to conduct the research in great detail. Yes, this includes details about the subject populations.
Don't forget to mention the weaknesses of your research, if any.
Clearly state the question or questions that your research aims to answer.
Do not skip the Literature Review chapter. You must outline the research and academic work that has already been done on the subject.
Check all your tables, graphs and figures for accuracy and typos.
When using technical terms, make sure you explain everything so your audience understands them.
Proofread everything yourself or let an expert to it for you. Spell checkers are not good enough because they often miss some errors.
Don't forget to start your paper with the Title page. You will include the title, running head, your name, and your affiliation (if applicable).
Need Some Writing Help?
This sounds like a difficult paper, can't you just write my paper for me? Well, the good news is that we can provide you with all the writing help you need. We have creative writers who have extensive experience writing empirical papers on a wide variety of subjects and topics. Our experts are not only smart, but also very good at writing academic content. After all, we have been in business for more than 10 years.
We are perfectly capable of helping every high school, college and university student with a top notch empirical essay. We can assure you that your teacher will appreciate our work, so you have a very good chance of getting an A+. All our intelligent writers are native English speakers and we provide only 100% custom academic content to our customers online. This means that our affordable papers are unique (NO plagiarism whatsoever). Get the best research paper helper and empirical paper fast and secure in as little as 3 hours. Get in touch with us and get help today!
Empirical Research Paper: FAQ
If you are about to start writing an empirical research paper, you probably have some questions. Below, you will find answers to the most common questions. In case you don't see your question in the list, don't hesitate to contact us for additional information.
Q: So, what is empirical findings?
A: You will sometimes see the terms "empirical findings" used by people who explain what an empirical essay is. It is basically another way of saying "empirical evidence" – which is the data that supports or counters the thesis. Remember, "empirical" translates to "based on observation or experience", so the empirical evidence is the result of research that is based on observation or experience.
Q: Can you tell me how to find a great sample paper?
A: There are very few examples of empirical papers on the Internet because this is a relatively difficult paper to write. And the bad news is that the samples you do find are usually poorly written. This is why we advise you to contact us and request a custom sample that will be written on the subject and topic of your choice. The sample will be 100% original.
Q: What type of citation style should I use?
A: The empirical essay is a research paper that usually requires the use of the APA (American Psychological Association) academic writing style. This is what you should be using, unless your professor specifically asks for another style.
Q: What is the hourglass structure?
A: You will see many mentions of the hourglass structure when you are searching for information about the empirical paper. This is because the structure is similar to an hourglass, with the introduction starting as general as possible and then narrowing until it becomes as narrow as possible. The methods and results are also as narrow as possible. The end of the discussion and the conclusion return to being general. Hence, the hourglass shape.
Take a break from writing.
Top academic experts are here for you.
do my paper