Blog
Back to articles
How To Write Article Review Like Professional
Do you have an article review assignment, and it is proving challenging? Writing an article review is never easy for many scholars and students because it demands top-notch analytical and writing skills, but this guide will help you turn the tables.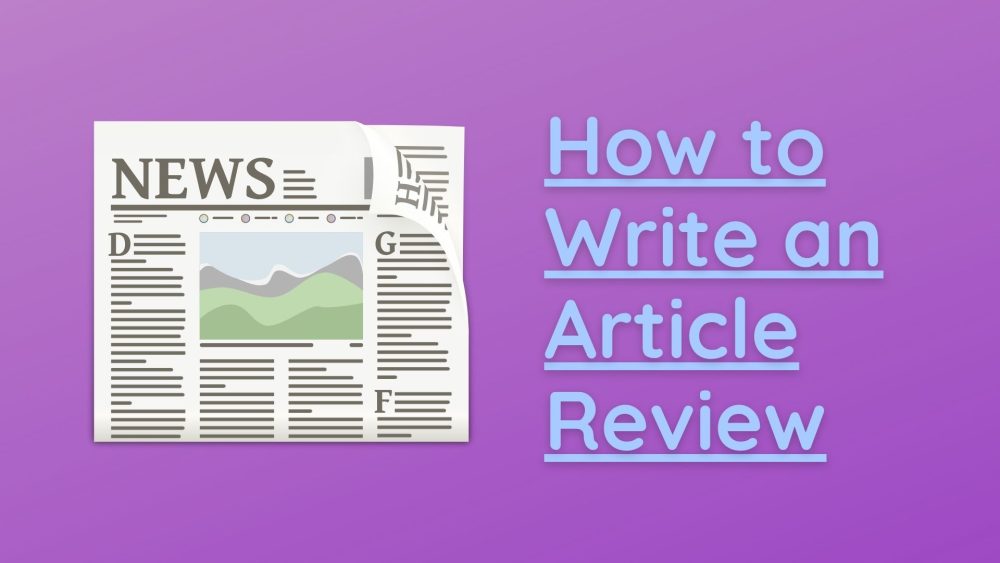 An article review task requires students and scholars to evaluate the works of other experts in their fields of study to determine originality, clarity, and contribution to the respective discipline. This post is a detailed guide to writing an A-rated article review.
This post will help you learn what an article review is, the different categories, and a step-by-step guide for writing the review. Finally, you will get expert tips and an article review sample to further hone your skills.
Do not get content with poor or standard quality papers; here is how to do an article review like a pro!
What is an Article Review?
This piece of writing assesses and summarizes another person's article or work. The process involves understanding the primary theme of the article/post under consideration, supporting arguments, and possible implications for further studies. Here is a breakdown of what the process entails:
Analysis, classification, summarization, comparison, and critique of the article being reviewed.
Assessing the use of key ideas, theories, and studies that are relevant to the subject of the article/post under review.
Note that writing a review does not introduce new ideas. Instead, you only respond to another writer's work.
Writing an Article Review: The Main Types of Formats
Before we can look at how to write a journal article review, it is important to appreciate they fall into several categories, which include:
Journal Review
This is a common type of article review and is used to evaluate the strengths and weaknesses of the selected publication. In a journal review, you need to do a deep analysis and interpretation that captures the value of the publication. If there are gaps in the article, you must highlight them too.
Research Article Review
This type of review differs from a journal review in that it focuses more on the research methods that are employed in the publication under consideration. In addition, the research methods are compared with those from other related studies.
Scientific Article Review
Science article reviews only focus on publications in scientific disciplines, from medicine to engineering. This type of article captures a detailed background of the targeted publication to help readers get a better understanding of the topic.
Article Review Outline for Top Grades
To write a great article review, it is important to start by developing an outline. Like other types of assignments, your article review should have a clearly defined introduction, body, and conclusion. In some cases, your university professors or teachers provide outlines to be used, but many are the times when you have to work out everything. Here is a sample of the best outlines that you can count on for A-rated reviews:
The Pre-Title Page: This part captures important details of the paper, such as the type of the article under review, publication title, and authors. Make sure also to include the author's affiliations, such as their institution, position, country, and email ID.
Corresponding Author Details (optional): These details include things such as the address, name, phone number, fax number, and email.
Running Head: If you are preparing the article review in APA format, your title page should also have a running head. This is the title of the paper but shortened to about 40-50 characters.
Summary Page (Optional): This mainly depends on whether your lecturer wants it. If he/she does not want students to include it, avoid it. When writing this summary, limit the section to 800 words long and follow these four expert tips:
Provide relevant background.
Tell readers why the work was done.
Summarize the results.
Explain the method used in the publication.
Title Page: This page should be restricted to about 250 words. Make sure that it has the most important keywords (about 4-6).
Introduction: Introduce your article by providing some highlights about what the reader should expect. Remember that you are not adding new information but only focusing on what the publication is about.
Body: Like a standard essay, this is where the bulk of the review goes. Make sure it is broken down into sections to make it easy for readers to get it right.
Conclusion: Use this section to wrap the main points that you brought out in the review paper.
References: Once you are through with the article review, include all the resources you used.
How to Write a Review of an Article
The process of writing a review article is pretty similar to a literature review. First, you must go through the publication several times to note the main arguments, counterarguments and gaps (if any) and then follow a pre-drawn outline to write the review. Here is a step-by-step guide on how to write a journal article review like a pro:
Step One: Put Down the Title
The first step when writing an article review is to prepare a title that reflects your focus. So, do you want a declarative, descriptive, or interrogative title?
Step Two: Correctly Cite the Article
The next step is correct citations for the publication under review. Keep in mind the article review format recommended by your teacher. Take the example of an article review following the MLA formatting guide. In such a case, the citation should take the format shown below:The name of the author. "Article Title." Journal Title and Issue. Pages. Print.
Step Three: The Article Identification
Once you have correctly cited the article, the next step is identifying it. So, here is the information to include:

Article title.
Author.
Journal Title.
Year of Publication.

Make sure to put this information in the first paragraph of the review paper. Check out the demonstration of how to put it below:

The post "Climate Science: Global Warming's Terrifying New Math" was written by Bill Mackibben – a RollingStone reporter in 2012.

Step Four: Introduce Your Review Article
How to start an article review is always a challenge for many students, but we must say that it does not have to be. Here is how to go about it:

Start by drawing a thesis for your review.
Prepare a summary of the main points or arguments.
Capture the positive aspects and facts in the publication under review.
Critique the publication by checking major contradictions, gaps, and disparities. You might also want to check the key questions that go unanswered.

Step Five: Write Down the Summary of the PublicationYou can do this by revising what the publication's author wrote about. Remember to capture crucial facts and findings that were brought out by the publication's author. Also, include the conclusions drawn by the author.
Step Six: Critique the Publication/ Post under ReviewWhat strengths and weaknesses did you find in the publication? Present them at this point. Go ahead and highlight how the author has contributed to the discipline of interest. Also, write about the contradictions and gaps you find in the article.It is also important to take a standpoint on the assertions. Are you supporting or not supporting the main argument of the author? However, you need to ensure that your stand is supported by facts and appropriate theories. You might also want to use rubrics to assess the author.
Step Seven: Write Down the ConclusionThis is the last part of the article review, and it requires you to revisit the main points captured in your review paper. So, what were your findings? Here you need to write about the validity, accuracy, and relevance of the results presented in the publication. This is also the moment to point out the future for the topic and area of study.
The process can seem too long and exhausting to me. However, there's no need to worry. You can hire professional writing services and get perfect result witj no efforts.
Special Tips for Writing a Great Article Review Outline
Now that you know how to write a good article review, are there ways that you can improve it? Here are some expert tips to consider:
Take your time to understand and analyze the publication of interest.
Make sure to target the main points for your review paper. Try to be as accurate as possible.
Use evidence from other sources and bring them out with direct quotes.
Always use the parenthetical citation for referencing. When offering advice on writing review article reviews, experts emphasize citations to help students avoid accidental plagiarism.
Reread your paper after a few hours or days to spot grammar, flow, and organization issues and fix them.
Consider reading several article reviews done by experts to hone your skills in preparing high-quality papers.
Always stick to your lecturer's guidelines and recommendations.
Article Review Example
Why are we going this deep to demonstrate how to prepare a high-quality article review? The answer is that preparing a college or university article review has been a huge challenge for many students. To help you craft even better article reviews, here is one of the best samples:
In the Forbes article, "Three Reasons why Amazon's Cash Flow is No Comfort" (Trainer, 2014), the author dissects the financial reporting of the online retail giant, Amazon.com. According to the author, the negative or low earnings report, roughly $75 billion annually is not an accurate account of Amazon's actual financial picture. While many of the Amazon "bulls" argue that viewing the earnings of the company does not provide the appropriate view of its financial position, Amazon's CEO, Jeff Bezos' position is that his focus for the company is in having a high free cash flow, rather than a focus on earnings per share. Yet, according to the author, while on the surface it appears that Amazon generates more cash flow than earnings per share, that in fact is a falsehood or imagery due to the way in which Amazon is reporting its financial situation.

This articles looks delves into three factors of Amazon's financial outlook: depreciation, stock-based compensation, and capital lease. It is these three factors, which show that Amazon's reported operating cash flow is inflated. Amazon recorded $3.3 billion in depreciation, technically a non-cash expense, but in actuality cost $3.4 billion for the cost of purchases of property and equipment. The $1.1 billion stock based compensation gets added back into the operating cash flow, means that this is also a business cost. Within Amazon's operating cash flows are the build-to-suit leases which totaled $2.7 billion. These costs can be deferred making it appear that Amazon's cash flow is positive, at least in the long term. Another factor which argues against Amazon's false front are the operating leases which are included in the financial footnotes, not included on the balance sheet. According to the author, Amazon is using loopholes in order to paint a better picture of its financial position.

According to the author, Amazon has lost its position as a profitable online powerhouse. Trainer provides an analysis of Amazon's invested capital turns since 2003 to show that despite the reports, after a seven year growth between 2003 and a peak in 2009, capital returns show a decline to nearly 2003 levels; revenue on the other hand has actually shown steady increases since 2003. How can invested capital turns peak and decline, despite steady revenue increases? According to the author it is due to efficiency, or lack thereof. Additionally, Amazon has quadrupled its advertising budget since 2009, showing that while revenue is increasing, so are expenses, resulting in the negative cash flow analysis.

The article is very critical on how Amazon is reporting its financial health. With hundreds of people to employ and pay, will a negative report help the company maintain its current success or have the negative effect of shaking consumer and investor influence? The price of Amazon shares allows the company to keep its position is the marketplace, and pay stock options, even if the cost of those payouts is rolled back into the operating expenses and possibly decreases the cash flow. Yet keeping stock investors happy, keeps the doors open.

The author is critical on the way in which Amazon is reporting its use of capital leases. Yet it is options such as these that keep businesses on the cutting edge and able to expand to meet demand. Its it wrong for Amazon to invest in other types of property ownership or use so that expenses are directly taken from the bottom line, or is this a way of doing business? The author is suggesting that Amazon is not being transparent in its operating of business.

In the wake of dozens of companies coming under scrutiny to be more transparent and accurate in their reporting, the assessment of Amazon's reporting structure is a natural response in keeping businesses accountable. Creative accounting allows companies to project an outward positive financial picture, when in reality business is nowhere near the money-making machine it is perceived to be. Is creative accounting an option for businesses to position it positively in order to stay in business? Is it wrong for a company to position itself more positively in order to stay in business? What will happen to Amazon if in fact all expenditures are reported and pit against the revenues?

Articles such as this show the public that companies are making themselves look good in order to stay in business. When companies are not being transparent, it is necessary that professionals who understand accounting procedures to examine profit/loss statements and make those companies accountable. These research inquiries force companies to do what they should be doing.

In contrast, it is also necessary for investors to do their due diligence and check on the accuracy of articles like this. Just as this author found data showing that Amazon's cash flow is not what is being reported, there will be others who may find that Amazon's financial picture and projections are just as Amazon is reporting. The actual picture may be different depending on who is looking. There is always an analyst who will argue that a company is not doing its due diligence just as there are companies who will report inflated financial results to remain in business and pay investors. Not only is transparency vital, but so is objectivity to ensure that the larger picture is the true focus of research in the financial pictures of companies.
Seek Writing Assistance with Your Article Review
After reading through this step-by-step guide, are you ready to get started with your article review? If you are still finding it challenging or not confident, the best way out is to get assistance from our research helpers. These are expert writers who understand the process of article review writing well and are willing to help and guarantee you top grades. It is like getting your school teachers to do the assignments.
Our experts are also fast, and they can get the job done even with a tight deadline. If your professors issued the article review assignment very close to the deadline or you forgot about the task and now want to get it done in a couple of hours, our online custom writing service will be very helpful.
Our writers are very responsible, and services are affordable. Visit us today to place your order or talk to our friendly support staff for all your article reviews or other assignment needs.
Take a break from writing.
Top academic experts are here for you.
do my paper