Blog
Back to articles
How To Write Response Essay: Guidelines From Expert Team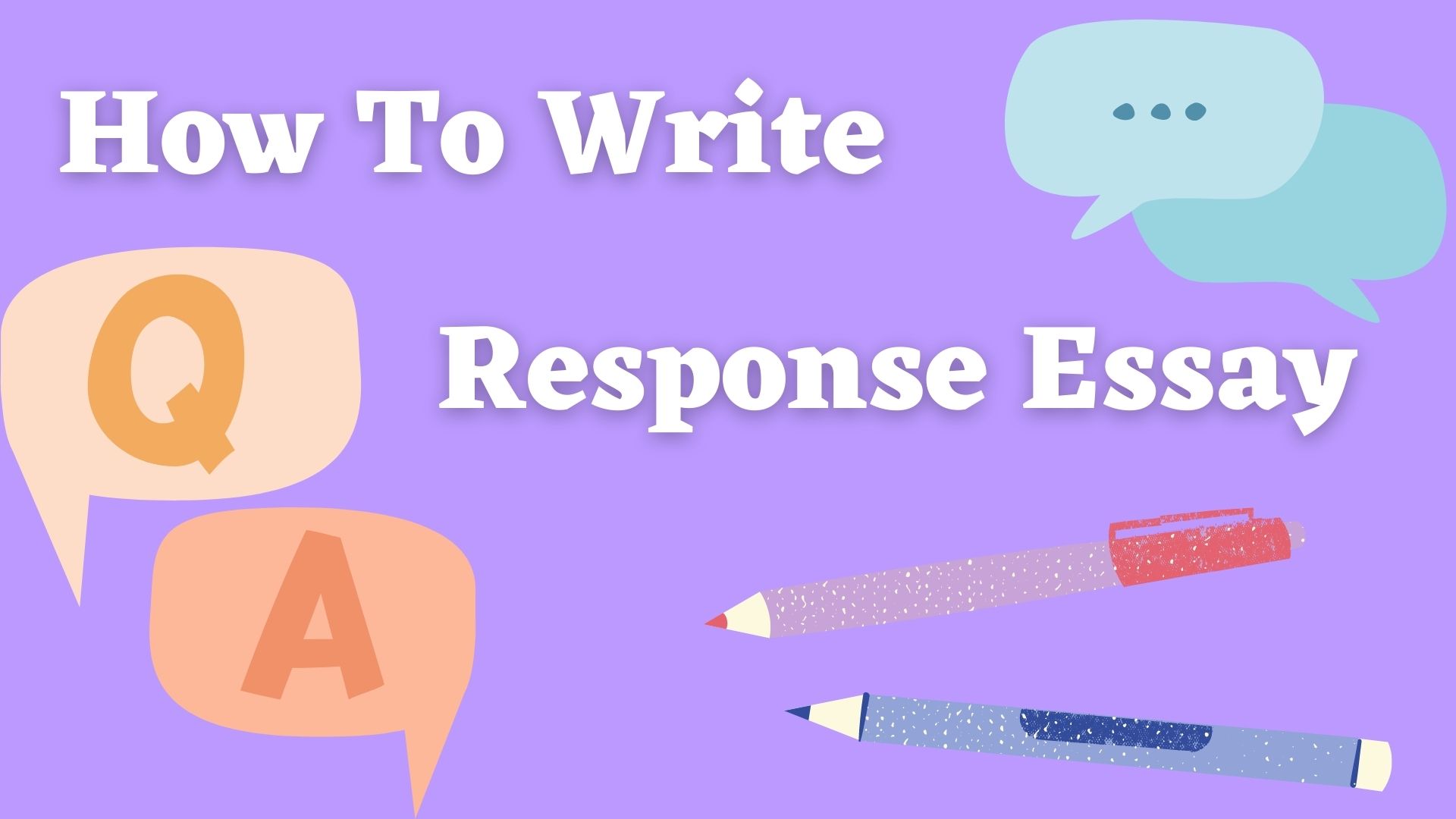 When you are asked to write a response essay, it is important that you understand exactly what this type of assignment entails. A response essay is a type of essay that provides a personal reaction to a given reading. This can be analytical, evaluative, interpretative, or even reflective.
Response writing can be tricky, but if you follow our step-by-step guide, you'll have no trouble coming up with a great one! We will walk you through exactly how to write a response paragraph, how to properly structure it, and even give you some helpful tips to make your essay shine!
So, let's get writing!
What Is A Response Essay?
First things first – what exactly is a response essay? A response essay is a type of writing that allows the writer to respond to a piece of work. It can be a text, image, or event. It's essentially a reaction paper – you're giving your thoughts and feelings about whatever it is you're responding to.
Response essays allow you to freely communicate your thoughts and feelings about any topic. Unlike summary essays where you just restate what you read, response essays require you to genuinely understand the content and context of the work you're assigned.
Once you have a strong grasp of the subject material, you have to concisely put forth your insights, opinions, and analysis.
Structure Of A Response Essay
Now that you know what a response essay is, it's time to learn how to structure one. A good response essay follows a specific format, which allows your ideas to be conveyed clearly and concisely.
Here's the basic essay response format:
Introduction
Summary Of The Work
Reaction, Response, and Analysis
Conclusion
Let's take a closer look at each of these elements that form the response paper format.
Introduction
Your introduction should introduce the work that you're responding to and mention the name of the author. You should also include your thesis statement in this section – this is your position on the subject matter. Overall, this part should be about 1-2 paragraphs long and it should keep the reader interested to read the rest of the response paper.

For example: "Should America atone for its past sins against black people? This is the question raised by Ta-Nehisi Coates in his powerful article 'The Case For Reparations'. The author strongly believes that America should make reparations to the African-American community, and after much contemplation, I wholeheartedly agree with him".

Summary Of The Work
In your summary, you want to give a general overview of the content without giving away too much. You'll highlight the main points of the work, provide direct quotations, and keep the writing objective and factual.

For example: "Ta-Nehisi Coates makes many compelling arguments for why America should make reparations to the African-American community. He cites statistics, historical evidence, and personal stories to support his position. According to him, "To celebrate freedom and democracy while forgetting American's origins in a slavery economy is patriotism à la carte.".

Reaction, Response, and Analysis
In this section, you'll want to go into detail about your reaction to the work. What did you like or dislike? What were your thoughts and feelings? Be sure to back up your claims with evidence from the text.

For example: "I found Coates' argument to be very convincing. He makes a strong case for reparations by providing ample evidence to support his position. I was also moved by his personal stories about the impact of slavery on African-Americans today. His writing is powerful and emotional, and it made me think about America's history in a new light".

Conclusion

In your conclusion, you'll want to restate your thesis and wrap up your essay. You may also want to include some final thoughts on the work.
For example: "In conclusion, I believe that America should make reparations to the African-American community. The case made by Ta-Nehisi Coates is very compelling, and I think it's time for us to take a closer look at our history and how we've treated different groups of people. I urge you all to read his work and evaluate how we can move forward as a nation".
Steps To Write A Good Response Essay
Many students struggle with writing a good response essay simply because they're confused about how to write response essay, where to begin, how to begin, and what to do next. Let's take a look at the step-by-step process of writing a fabulous response paper that is sure to get the attention of your teachers and professors.
Step 1 – Read and Understand the Work
Before you can write a good response essay, you first need to read and understand the work that you're responding to. Whether it's a book, movie, article, or poem, the quality of your response paper is directly proportional to how well you've understood the source material. Take notes as you read and highlight important passages so that you can refer back to them later. This is an important step in learning how to start a response essay.
Step 2 – Brainstorm Your Ideas
Once you've read and understood the work, it's time to brainstorm your ideas. This is the part of the process where you let your thoughts flow freely and write down any and all responses that come to mind. Don't worry about making sense or sorting them out yet – just get everything down on paper.
Step 3 – Write Your Thesis Statement
Your thesis statement is your position on the subject matter – it should be clear, concise, and easy to understand. This is what you'll be arguing for or against in your essay. Don't be afraid to genuinely put forth your opinion, whether it's positive or negative.
Step 4 – Support Your Thesis with Evidence
Now it's time to support your thesis statement with evidence from the text. Quote directly from the work and provide a brief explanation of how it supports your argument. Don't forget to cite your sources! The summary of the work and your personal opinion on the matter will form the core content of your paper.
Step 5 – Write a Conclusion
Once you've finished arguing for your position, it's time to write a conclusion. Restate your thesis and summarize your main points. You may also want to leave readers with something to think about or a call to action. A solid conclusion can sometimes make all the difference between a great response essay and a mediocre one!
By following these steps, you'll be able to write some of the best response essays that are well-organized, informative, and persuasive. All it takes is a little time and practice! On the contrary, you can choose buying custom college papers and be free of this assignment.
5 Key Features Needed In A Response Essay
When writing a response essay, there are certain key features that you need to keep in mind. Whether it's for school, college, or university, these five features will make your response essay unique and interesting.
Summarizing – This is probably the most important feature of writing a response essay. You need to be able to summarize the work succinctly, highlighting the most important points without giving away too much of the plot or story.
Paraphrasing/Quoting – In order to support your argument, you'll need to quote and paraphrase the work extensively. Make sure that you always credit your sources!
Organization – Your essay should be well-organized and easy to follow. Start with a strong introduction, then move on to your main points. Wrap things up with a conclusion that reiterates your position. No professor likes reading a haphazardly put-together essay!
Transitions – To keep your essay cohesive, you'll need to use strong transitions and connecting words between paragraphs. This way, the reader can move between different portions of your writing (e.g. Introduction > Summary > Thesis > Conclusion) without losing interest.
Argumentation – Last but not least, your essay needs to be filled with strong argumentation. Make sure to back up your points with evidence from the text, and don't be afraid to state your opinion openly. This is what will set your response essay apart from the rest!
Tips To Write A Stellar Response Essay
We'll share with you a few of our tried and tested essay writing tips that will masterfully elevate your response essay.
Take your time and read the source material carefully.
Write a strong thesis statement that reflects your position on the matter.
When stating definitive opinions, cite instances from the text to strengthen your stand.
Argument your points persuasively and with conviction.
Proofread your essay for errors such as grammar, language, punctuation, and spelling.
Have someone else, like a trusted friend or teacher, read it over for you as well – fresh eyes can sometimes catch mistakes that you've missed.
Use the help of a reliable paper writing service to assist you in the process.
Response Essay Example
Now that you've read all our instructions, there's only one thing left to do. You have a chance to ged extended response essay sample and see all our tips in practice.
Response Paper

In his article "The Militarization of the Police", James Bouie argues that recent traegy in Ferguson is only one symptom of the broad problem of increasing police militarization in the USA. The purpose of the author is to bring this question into light and warn American citizens about the danger it entails for the whole society, with a special emphasis being placed on racial minorities. Bouie addresses the general public who are concerned with political and social tendencies in the US.
The author begins his article with discussion of the photographs from Ferguson demonstration, pointing out the signs of inadequate aggression of the police toward the citizens. He puts the Ferguson tragedy in the context of increasing militarization of the US police force, which he believes to be one of the major problems of the American society. Bouie asserts that this process began with the war on drugs in the 1980s and intensified after the 9/11 attacks and the wars in the Middle East. He estimates that the value of military hardware owned by U.S. police agencies increased at 450 times from 1990 to 2013, despite the falling crime rates. Bouie also discusses the issue of increased SWAT deployment, which is disproportionately utilized in black and Latino neighborhoods. The conclusion the author draws is that the availability of heavy military weapons and a long-standing tradition of punitive policing toward racial minorities are the major factors that are likely to cause repressive reactions of the police.
The Ferguson tragedy has recently riveted the attention of the whole U.S. population. While we may lament the deaths of Michael Brown and Eric Garner, it is important to view these events in the broader context of police misconduct, as the author does it. Despite numerous changes and advancements in law enforcement over the last decade, such as community policing and recruiting more officers from racial minorities, the society is still staunchly opposed to the police force, and the negative sentiment has predictably grown after the Ferguson unrest. The frequent SWAT raids are definitely an overreaction, given that they are mostly deployed for low-level offenses, such as drug use. Repressive and punitive actions with the disproportionate targeting of racial minorities suggest that positive changes in the police were of purely decorative nature and were not effective to eradicate stereotypes, prejudices and aggression from the mind of law enforcement officers. While the author does not explore this perspective in detail, the increasing militarization of the police is often viewed as a logical consequence of the militarization of the whole US politics, which is obsessed with identifying and eliminating national enemies. Incessant employment of war rhetoric by the officials has the power to alter the mindset of the whole society, not only police officers.
The article provides a comprehensive account of the author's opinion. No doubts arise as to the appropriateness of his observations, largely because they are aligned with the common social reaction to Ferguson tragedy. However, the author does not explore any potential solutions to the problem, thus leaving this question open for the readers to consider. Another overlooked issue, which may interest the readers, is how the situation in the USA compares to other developed countries and what policies they implement to prevent the overreaction of police force. The author has achieved the purpose of persuading his readers that events in Ferguson are linked to a broader social problem, as his arguments appeal to the common sense and show clear causality between acquisition of military equipment and overreaction to offenses and unrest. The author made his article more persuading by referring to Ferguson photographs, statistics and authoritative specialists to support his argument.
Want Someone To Write An Essay For You?
We hope this guide has taught you everything you need to know about how to write a strong response essay. Keep these key points in mind, and you're guaranteed to produce a top-notch paper!
If you want additional advice on how to write a response paper, simply hire someone to write an essay. Our team of professional, educated academic writers will write high-quality papers and essays that will get you in the good books of any of your teachers! It's fast, affordable, and always 100% original. You won't be disappointed!
Good luck with all of your future academic endeavours!
Take a break from writing.
Top academic experts are here for you.
do my paper